Sharing and collaborating on files
With Xodo, you can annotate and comment on PDFs in real time with anyone you want, as long as they have an email address and access to a web browser. There's no need for your group members to create an account or download Xodo.

1. While viewing the document you want to share, tap the
 Xodo Connect icon on the Action Bar. If you don't see the Action Bar, tap the center of your screen to bring it up.

2. If you're sharing a document for the first time, you can either sign in with your Google account by tapping the Continue with Google button, or create a Xodo account by entering your email and password and tapping the Create Account button. If you already have a Xodo account, tap I already have an account at the bottom of the screen and enter your email and password.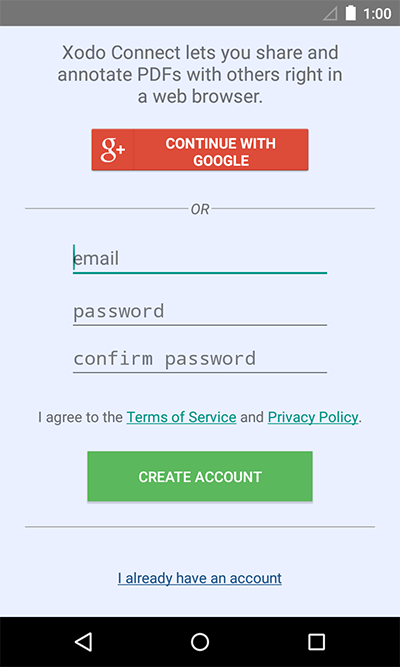 If you're creating a new Xodo account, Xodo will send you a verification email. Once you've verified your email address, you can proceed to the next step.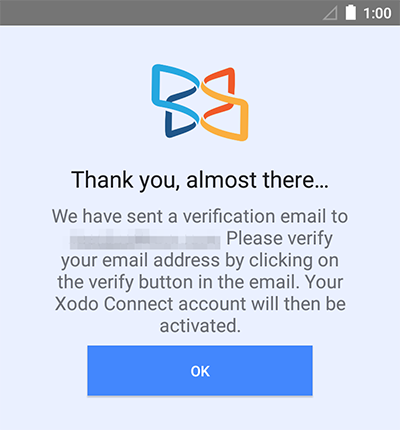 3. In the next dialog, enter your group members' emails. You can tap Browse to select contacts from your device.



4. Once you've added a group member, you can tap the

Settings icon beside their email address to change their permissions. By default, group members are given rights to

Annotate, but you can choose to give them only 
 Read Only permissions. You can also

Delete a group member from the document.

5. You can also Add a Personal Message to your collaborators, and choose your notification settings for new activity on the document.

Once you're satisfied with your choices, tap OK. Xodo will send email invitations to your group members on your behalf with a link to the document.




6. To view or edit your shared document, tap the Xodo Connect tab.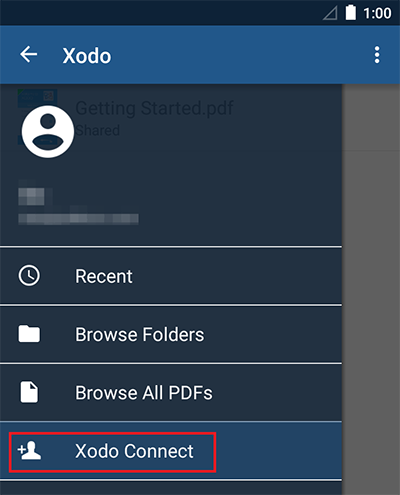 7. Long press on the file to bring up the file management options. To add, edit, or delete collaborators, tap the
 

Manage Connection icon. To obtain a public, read-only link to the document, tap the 
 Get Link icon. To stop sharing the file, tap the
Delete icon.

See Also:
Getting the public read-only link for a document
Syncing your Xodo web app bookshelf with the Xodo Android app